Award Winners
Award Winners 2021
Fiction: Gary Barwin for Nothing the Same, Everything Haunted: The Ballad of Motl the Cowboy (Random House Canada)
Biography: Menachem Kaiser for Plunder: A Memoir of Family Property and Nazi Treasure (Houghton Mifflin Harcourt)
Poetry: Lisa Richter for Nautilus and Bone (Frontenac House)
Children and Youth: Sigal Samuel for Osnat and Her Dove (Levine Querido)
Scholarship Rebecca Clifford for Survivors: Children's Lives After the Holocaust (Yale University Press)
Holocaust: Judy Batalion for The Light of Days: The Untold Story of Women Resistance Fighters in Hitler's Ghettos (William Morrow)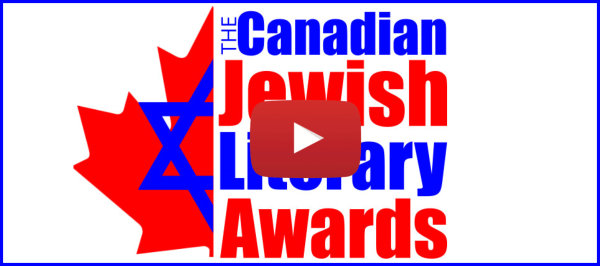 Award Winners 2020
Fiction: Abraham Boyarsky for Through Shadows Slow (8th House Publishing)
Jewish Thought and Culture Tanhum Yoreh for Waste Not: A Jewish Environmental Ethic (SUNY Press)
Biography: Hernan Tesler-Mabé for Mahler's Forgotten Conductor: Heinz Unger and His Search for Jewish Meaning, 1895–1965 (Yale University Press)
History: Derek Penslar for Theodor Herzl: The Charismatic Leader (Yale University Press)
Children/Youth: Edeet Ravel for A Boy is Not a Bird (Groundwood Books)
Yiddish: Ilan Stavans and Josh Lambert, editors for How Yiddish Changed America and How America Changed Yiddish (Restless Books)
Scholarship: David Novak for Athens and Jerusalem: God, Humans, and Nature (University of Toronto Press
Poetry: Elana Wolff for Swoon (Guernica Editions)
Holocaust: Laurent Sagalovitsch for Le Temps des orphelins (Buchet/Chastel)
Award Winners 2019
Fiction: Jennifer Robson for The Gown: A Novel of the Royal Wedding (HarperCollins)
Memoir: Ayelet Tsabari for The Art of Leaving (Harper/Collins)
Biography: Alexandra Popoff for Vasily Grossman and the Soviet Century (Yale University Press)
History: Matti Friedman for Spies of No Country: Behind Enemy Lines at the Birth of the Israeli Secret Service (Signal/McClelland & Stewart)
Children/Youth: Anne Dublin for A Cage Without Bars (Second Story Press)
Yiddish: Goldie Morgenthaler, translator, for Confessions of a Yiddish Writer and Other Essays by Chava Rosenfarb (McGill-Queen's University Press)
Scholarship: Michael Kater for Culture in Nazi Germany (Yale University Press)
Holocaust: Leonard and Edith Ehrlich, Carl S. Ehrlich, editor for Choices Under Duress of the Holocaust: Benjamin Murmelstein and the Fate of Viennese Jewry Volume I: Vienna (Texas Tech University Press)
Award Winners 2018
Fiction: Natalie Morrill for The Ghost Keeper (HarperCollins Patrick Crean Editions)
Memoir/Biography: Kathy Kacer with Jordana Lebowitz for To Look a Nazi in the Eye: A Teen's Account of a War Criminal Trial (Second Story Press)
Poetry: Rebecca Păpacaru for The Panic Room (Nightwood Editions)
Yiddish: Seymour Mayne for In Your Words: Translations from the Yiddish and the Hebrew (Ronald P. Frye & Co)
Scholarship: Daniel Kupfert Heller for Jabotinsky's Children: Polish Jews and the Rise of Right-Wing Zionism (Princeton University Press)
History: Pierre Anctil for Histoire des Juifs du Québec (Les éditions du Boréal)
Holocaust Literature: Max Wallace for In the Name of Humanity: The Secret Deal to End the Holocaust (Allen Lane/PenguinRandom House Canada)
Children and Youth Fiction: Anne Renaud (author) and Richard Rudnicki (illustrator) for Fania's Heart (Second Story Press)
Award Winners 2017
Fiction: Gary Barwin, for Yiddish for Pirates (Vintage Canada).
Holocaust Literature: Myrna Goldenberg, editor, for Before All Memory Is Lost: Women's Voices from the Holocaust (Azrieli Foundation)
Memoir/Biography: Matti Friedman, for Pumpkinflowers: A Soldier's Story (Signal/McClelland & Stewart).
Children and Youth Fiction: Eva Wiseman, for Another Me (Tundra Books)
Poetry: Stuart Ross, for A Sparrow Came Down Resplendent (Wolsak & Wynn)
History: Roger Frie, for Not In My Family: German Memory and Responsibility After the Holocaust (Oxford University Press)
Yiddish: Rachel Seelig, for Strangers in Berlin: Modern Jewish Literature Between East and West 1919-1933 (University of Michigan Press).
Jewish Thought and Culture: Chantal Ringuet and Gérard Rabinovitch, editors, for Les révolutions de Leonard Cohen (Presses de l'Université du Québec).
Scholarship: Joel Hecker, for The Zohar: Pritzker Edition, Vol 11 (Stanford University Press).
Award Winners 2016
Fiction: Sigal Samuel, for The Mystics of Mile End (Freehand Books).
Holocaust Literature: Agata Tuszyńska, for A Family History of Fear (Knopf Canada)
Memoir/Biography: Howard Akler, for Men of Action (Coach House Press).
Children and Youth Fiction: Anne Dublin, for 44 Hours or Strike! (Second Story Press)
History: Michael Marrus, for Lessons of the Holocaust (University of Toronto Press)
Yiddish: Helen Mintz, translator, for Vilna, My Vilna: Stories by Abraham Karpinowitz (Syracuse University Press).
Jewish Thought and Culture: Julia Creet, Sara R. Horowitz and Amira Bojadzija-Dan, editors, for H.G. Adler: Life, Literature, Legacy (Northwestern University Press).
Scholarship: Sarah Phillips Casteel, for Calypso Jews: Jewishness in the Caribbean Literary Imagination (Columbia University Press).
Award Winners 2015
Novel: Nora Gold, for Fields of Exile (Dundurn Press).
Scholarship: James A. Diamond, for Maimonides and the Shaping of the Jewish Canon (Cambridge University Press).
Biography/Memoir: Alison Pick, for Between Gods: A Memoir (Doubleday Canada).
History: Joseph Hodes, for From India to Israel: Identity, Immigration, and the Struggle for Religious Equality (McGill-Queen's University Press)
Youth Literature: Suri Rosen, for Playing with Matches (ECW Press)
Poetry: Robyn Sarah, for My Shoes Are Killing Me (Biblioasis).
Holocaust Literature: Beverley Chalmers, for Birth, Sex and Abuse: Women's Voices Under Nazi Rule (Grosvenor House)
Short Fiction: Mireille Silcoff, for Chez l'Arabe (House of Anansi).
Yiddish: Ruth Panofsky, for The Collected Poems of Miriam Waddington: A Critical Edition (University of Ottawa Press).
Our Mission
The Canadian Jewish Literary Awards recognizes the finest books with Jewish themes and subjects by Canadian authors in a variety of genres. It enriches and promotes Canadian Jewish writing and culture, enabling us to better understand our collective past, our shared present, and the world of the future. The Canadian Jewish Literary Awards does more than reward winning authors with a cash prize and a moment in the spotlight. It builds pride, not only in the individuals being honoured, but in the creative achievements that reflect Jewish themes and ideas.
News
Celebrating Literature CJN Canadian Jewish Literary Awards Supplement 2016
The world's first female rabbi finally gets her moment, 350 years after her death The Canadian Jewish News, Oct. 19, 2021
Canadian Jewish Literary Awards celebrates writers in virtual ceremony toronto.com, Oct. 22, 2020
Canadian Jewish Literary Awards Celebrate 2020 Winners in Online Ceremony Oct. 25 Canadian Jewish Record, Oct. 22, 2020
Jennifer Robson, Ayelet Tsabari among winners for 2019 Canadian Jewish Literary Awards CBC Books, Oct. 30, 2019
University Of Lethbridge Professor Receives Canadian Jewish Literary Award Alberta Jewish News, Oct. 25, 2019
2019 Canadian Jewish Literary Awards 49th Shelf, Recommended Reading 2019
Anne Dublin will receive the Canadian Jewish Literary Award (Youth) 2019 Association of Jewish Libraries – Ontario Chapter
Book about Her Majesty's wedding gown wins Jewish Canadian literary award Royal Central, Oct. 8, 2019
Book about The Queen's wedding gown wins Canadian Jewish literary award Jewish News (Britain), Oct. 4, 2019
Winners of the Canadian Jewish Literary Awards Announced Canadian Jewish News, Oct. 3, 2019
Canadian Jewish Literary Awards Handed Out in Toronto Canadian Jewish News, Oct. 25, 2018
Canadian Jewish Literary Awards 2018 Winners The Canadian Children's Book Centre, Sept. 26, 2018
2017 Winners Announced September 27, 2016
Winners of the 2016 National Jewish Book Awards Announced The Jewish Book Council, Jan. 11, 2017
Montreal-Born Writer Wins Fiction Prize at Canadian Jewish Literary Awards Canadian Jewish News, Nov. 2, 2016
Professor Tells a Different Story of Black-Jewish Relations Canadian Jewish News, Oct. 27, 2016
Sigal Samuel among 2016 Canadian Jewish Literary Award winners Quill & Quire, September 29, 2016
Sigal Samuel honored with Canadian literary prize Forward, September 28, 2016
2016 Winners Announced September 27, 2016
The Canadian Jewish Literary Awards Announces its Return in 2016
Two Jewish literary awards provide more opportunities March 8, 2016
Jewish Book Awards carries on under new stewardship October 30, 2015
Canadian Jewish Literary Awards announces winners October 21, 2015
Jewish literary awards to go on despite Koffler hiatus May 12, 2015

Code of Conduct
Conflicts of Interest
When a Juror has other connections/conflicts with a book being considered for an Award:
The jurors' expertise and connection to others in their field will likely and understandably result in friendships with authors, professional connections, as well as the writing of reviews and blurbs for books under consideration. These should not automatically preclude jurors from participating.
Jurors will declare any potential conflicts at the outset of deliberations. The expectation is that fairness and integrity will guide the jurors on whether or not to recuse themselves from the evaluation or decision-making regarding any particular book.
When a Juror has a book that is being considered for an Award:
No one shall serve on the jury when their own books are under consideration.
When a juror has co-authored, edited, or has made a significant contribution to a book, the juror will declare this potential conflict as soon as possible and the Jury will decide if the connection is too close for the Juror to remain on the Jury.
What is a Jewish Book?
Canadian Jewish Literary Award Juror Andrea Knight spoke at Tikkun Leil Shavout, May 19, 2018, at the Miles Nadal Jewish Community Centre about what exactly makes a book Jewish
CJL Awards chairman Edward Trapunski and juror Andrea Knight
What I've learned — and I speak only for myself, not for the whole jury — is that is it possible for a Jewish author to bring a je ne sais quoi, what I would call a Jewish sensibility to her or his writing, regardless of the quantifiable Jewish content. It might be the rhythms of the language, a smattering of Yiddish or Yiddish syntax, a certain sense of humour.